Which Social Network is Right for your Small Business?
Aisling Brennan, 01-Apr-2016
You know social media is important for small business. But as a small business owner, you know you've limited time and financial resources. So, where do you start to get the most bang for your buck?
According to Ipsos MRBI's Social Networking Quarterly survey (August 2015), 67% of the Irish population has a Facebook account, 28% has a Twitter account, 23% a LinkedIn account. Other popular networks include Google+, Instagram, Pinterest, YouTube, Vimeo, Vine, Snapchat, Reddit, Tinder, Tumblr and Bubbly to name but a few!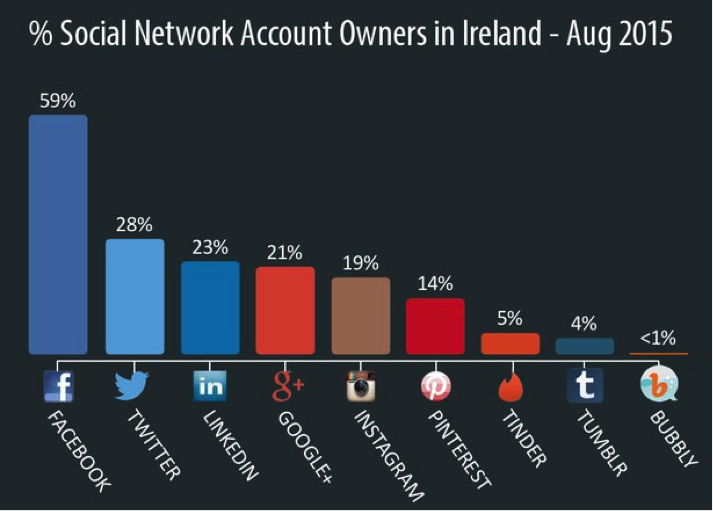 So where do you start?
How do you know which network is best for your small business? I'm sure you have limited time with limited content to-hand, and a specific audience you want to reach.
What you need to do is find the social network that offers the best potential for reaching your ideal audience and broadcast the right type of media that best resonates with that audience.
Create client persona.
Create a persona, or basic profile, of the audience you want to target, including age gender, job title, income, education, family, location, values, fears, buying motivations and buying preferences. This will help you better identify with your ideal audience, and identify where they like to hang out online, particularly on social media.
Determine your budget.
Social media is not free. Investigate each network and consider which will give you the best return. Do you have lots of quality video content/production facilities available, perhaps YouTube or Periscope will deliver the best return. Or do you have lots of beautiful photographed imagery? Then you should consider Instagram or Pinterest. Or tons of industry research and trend data - then LinkedIn might be your best best.
Identify the main Influencers in your industry.
Search for the main thought-leaders in your sector. Where do they hang out? Search for them on each network. Find where the conversation is happening.

Once you identify the network that's most active, create a business presence there. Repost the influencers content, start to participate in their conversations and make yourself known in an understated (read: not annoying) way. Relationships take time to develop so be patient. It won't happen overnight.
Identify the best content to share.
In order to be successful on social media, you need to Determine what content is resonating most with your audience. Which articles are most commonly shared? Whether it's bespoke content you created or content you simply shared and on which social network were they shared the most (and least). Interrogate the social networks analytics and your Google Analytics data to find out.

Addressing these questions will lay the groundwork for a successful social strategy and will help you determine which social network is best for your business.
Top Irish Social Media Networks
Facebook
Source: http://connector.ie/infographic/
The largest social network, Facebook has over 2.6m Irish users, 47% between the ages of 25-44, 53% of which are female, who spend 5hr40mins/week on average on Facebook.

What's interesting to note is that Facebook's demographic is getting older, as younger people have deserted in droves—or, are simply not joining--in favour of other social networks like Instagram and Snapchat. However older demographics have somewhat stemmed the decline, with a jump seen in over the 55's age group signing up and using Facebook.

What's important for small business to remember is that Facebook is NOT a selling platform, it's a social platform. It's about building trust and long-term relationships with existing and prospective customers.

Recent algorithm changes have meant that most small businesses now need to use paid advertising to create the necessary awareness for their business.

PROs:

• Great for building long term relationships with customers
• Great for personalising the brand – showing the people behind the logo
• Great for local business, as customers will actively seek out your profile page for info (opening hours, events, coupons, deals, etc.)
• Offers ability to showcase your products/services
• Offers ability to communicate with existing/potential customers
• Paid advertising options offers great targeting options
• Facebook users tend to be more loyal users than other social network users

CONS

• Long term commitment required as trust and relationship building takes time
• To be really effective most small business will have to rely on Paid Advertising for reach
• Your posts/updates are only seen by small percentage of fans

Twitter

Source: http://connector.ie/infographic/
With over 835k Irish users of which 60% are male Twitter is known as a platform for breaking news. It's very fast and fleeting platform with over 340m tweets sent every day.

Businesses do not use Twitter as a sales channel either - it's a way to share relevant engaging in-the-moment content with other like-minded people. Twitter is best suited to small business that has things to say frequently, has an abundant of content to share and/or prefers to reach people directly.

PROs
• Quick, easy-to-use interface – 140 character tweet takes just a few minutes to write.
• Massive worldwide reach so even very niche audiences can even be found
• Hashtags help direct your tweets to target audience
CONs
• Takes time to build trust and the corresponding following
• Need to tweet multiple times/day to gain traction
• 140 character limit can be challenging for some. Ensure your copywriting is succinct yet engaging.
LinkedIn
The largest professional networking social network, over 28% of the Irish population now has a LinkedIn account.
Great for b2b industries, LinkedIn is all about business and professionals. It lets you share ideas with other professionals in your industry and create a platform for thought-leadership that shows off your expertise. Businesses that succeed on LinkedIn ultimately create content that demonstrates expertise and industry knowledge and will benefit most with lead development.
Of course, as with the other social networks, LinkedIn is NOT a sales platform, rather it's a nurturing platform. Aggressive sales tactics are frowned upon. What LinkedIn does is allow businesses to build relationships with other businesses, to network, open a dialogue and build trust that can eventually develop into a business relationship.
PROs
• Great for peer networking and industry specific information
• Great for establishing thought-leadership and expertise within sector
• LinkedIn groups/discussions are great exposure to professional audiences with similar interests
• Average LinkedIn user is 35+, and has higher income and education level
CONS
• Works best for b2b business
• Not very visual – predominantly reliant on text based content
To recap, social media is a time-consuming but important reality for small business. Keep your audience and the content (you can share) in mind when you choose the platforms that best fit your business. Then spend some time getting comfortable with these platforms.
What you do when you get in front of your target audience is up to you, but knowing that you are speaking to the right people is half the battle, and it will make you more confident. Good luck!

Further Reading:
• Social Media 101 – 5 Tips for Newbies
• 10 Tips to Improve your Facebook Business Page
• Top 10 Digital Marketing Tips for Cash Strapped Start-ups
• 10 Tips to Market Your Business on a Shoestring
• 10 Steps to Avoid Failure on Facebook
• 8 Digital Marketing Tips for New Business